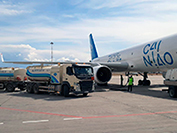 On the 22nd of May, 2020 Aerofuels carried out the first refueling of Aviastar-Tu cargo airline flight as a new operator in the airport of Yakutsk. Traditionally to mark this event the airport Aircraft Rescue and Fire Fighting (ARFF) greeted TU-204 with a water arc.
In 2018 the Republic of Sakha administration and the airport of Yakutsk management contacted Aerofuels Group of Companies with a proposal to create an alternative refueling company in the airport in order to develop competition in the refueling services market. Aerofuels was invited to involve in this large-scale project, because today they are one of the largest refueling operators and have a unique experience in alternative TZK distribution over the territory of Russia. All Aerofuels refueling complexes are equipped with the up-to-date equipment and provide full conformance of aviation fuel refueling services to the Russian and international industry-specific standards and norms. The longstanding work experience of the company demonstrates that as soon as an alternative refueler has come to the airport the fuel price is decreasing by 15 – 20% in average, which generally has a favorable effect on airlines business life.
A monopoly period for refueling in the airport of Yakutsk last more than a quarter of a century and many Russian and international air carriers suffered losses due to high prices for aviation fuels which sometimes were 20% greater than prices in other airports of the Eastern Siberia and Far East. But with a new refueling company launching in the airport of Yakutsk - it took two years to create it due to regional geographic and climatic peculiarities, even from June 2020 one may expect a significant decrease of aviation fuel price, and, consequently, reduction of air-ticket and freight per kg cost. The last item is especially important taking into consideration the fact that the main volume of regional freight traffic goes through the airport of Yakutsk.
Aerofuels Group of Companies would like to thank the Republic of Sakha administration and the airport of Yakutsk for support and assistance at all stages of work upon alternative refueling company creation and startup in the airport.