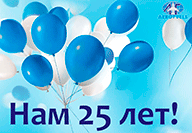 Just twenty five years ago, on July 24th, 1995, Aerofuels International, the first of the Aerofuels Group of Companies, was founded.
Since that time the company has passed a large and serious path of development, and today is justifiably recognized as one of the main suppliers of services in airplanes refueling in the international airports throughout the world. Due to its unique business-model and staff of professionals, Aerofuels International succeeds in working with the leading Russian and international air-carriers – members of top-50 world aviation lines, thus guaranteeing its customers the best conditions of refueling practically anywhere in the world. Concerning aviation fuel supply we cooperate with the largest transnational oil companies, leading international and regional aviation fuel suppliers, which proves the highest partners' confidence having been gained over the last years.
In 2020 Aerofuels Group of Companies means not only refueling in the international airports, but also it is a vast network of their own refueling complexes in Russia, the up-to-date industrial and technical base and highly professional and qualified personnel. Efficient management, investments in new technological solutions in the field of refueling, and their gradual implementation in the Group of Companies enterprises enable Aerofuels to build large-scale plans on further development of TZK network and entry into new markets.
We are happy that after twenty five years Aerofuels Group of Companies, having acquired a priceless experience and maintained their traditions, is still a young, growing and dynamically developing company which is able to keep leading positions in aviation fuel supply .