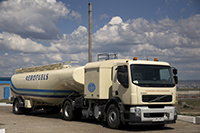 In 2016 the Group of Companies Aerofuels plans to continue its refueling complexes (TZK) re-equipment in the Russian airports. As per the preliminary estimation the Group of Companies investments in the new equipment in the current year will be kept in 2014 – 2015 level, and in some positions they will exceed last years figures.
The company defines the following tasks to be priority:
- purchase of 8 up-to-date aerodrome refuelers and not less than 4 fuel trucks;
- construction and commissioning of one more quality control laboratory equipped in compliance with the Russian and international criteria;
- upgrading and re-equipment of two aviation fuels depots.
Aerofuels plans on TZK development in Russia, first of all, aim at formation of healthy competition environment in the Russian airports and achievement of the required level of flights safety at the expense of airplanes refueling service rendered to the airlines to satisfy the highest requirements, which, undoubtedly, means jet fuel quality, conditions of its transportation and storage, and equipment for into-plane refueling.
As Vladimir Spiridonov, Aerofuels Director General, said "even last year due to the well-known events and circumstances the tendency to reduce international and at the same time to increase domestic traffic was revealed to the fullest extent. In this conditions we consider investments in the existing enterprises upgrading quite reasonable as it is this work aimed not only at support of the current situation but also meant for future, which will become the basis for the company position strengthening in this branch, for employment growth in the regions and the Russian air carriers support".