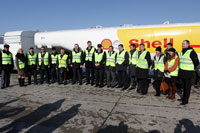 Last week formal event took place dedicated to commencement of Shell&Aerofuels CJSC operation in Pulkovo airport. Managers of aviation authorities, airport, representatives of airlines and mass media gathered at the event. Refueling company became the second operator in the market of Saint-Petersburg airport aviation fuel supply.
Press-conference was conducted upon completion of official part with participation of Oleg Grinchenko, head of Administration of North-Western Interregional Territorial Department of Air Transport FAVT (Federal agency of Air Transport), Sergey Emdin, General Director of Air gate of the Northern Capital LLC, Vladimir Spiridonov, General Director of Aerofuels Group and Paul Cluett, General Director of Shell&Aerofuels. Representatives of aviation authorities and airport marked positive role of Shell&Aerofuels company in the issues of competition development in aviation fuel supply market in Saint-Petersburg.
Paul Cluett presented Shell&Aerofuels company to the guests and told about further operation plans in Saint-Petersburg airport. Particularly he marked that designing of aviation fuels warehouse is completed and its construction is started nowadays in the territory of Pulkovo airport.
New operator of aviation fuel supply has all required certificates of Federal Air Transport Agency for operating in Saint-Petersburg airport, is regularly subject to inspections and confirms high quality of rendered services and full compliance of aircrafts refueling to ShellAviation standards. The company disposes of own new refuellers park in Pulkovo airport which meets both Russian and international requirements. Fuel refueled into aircraft tanks is subject to strict inspection in quality control laboratory of aviation fuel and lubricants. Large western air carriers are company customers in Saint-Petersburg airport nowadays. Refueling company possesses a 12-year successful working experience in Domodedovo airport. But for refueling operations performed for more than 50 foreign airlines Shell&Aerofuels are regularly assigned aviation fuel supplies in milestone events in Moscow airport: refueling of the first regular flight of Boeing 787 Dreamliner, the first flight of the largest passenger airplane in the world Airbus 380 and the first foreign low-cost airlines EasyJet.