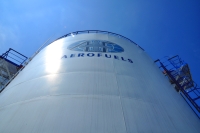 Aerofuels Group has started refueling of Tatarstan and Avia Management Group flights participating in the Federal Program on the regional traffic sponsorship in Privolzhsky Federal District from June in the airports of Kirov, Perm, Ufa and Ulyanovsk.
Taking into consideration significance of this program to provide air service availability for the public and to develop inter-regional connections, Aerofuels Group decided to grant a good discount for kerosene to the airlines carrying out flights between the cities of Povolzhye when refueling aircrafts in the refueling complexes of Aerofuels. Discounts amount makes it possible to save from 3500 to 4500 rubles per a ton of fuel, which will allow aviation fuel supply costs reduction up to 10%.
«We expect that discounts offered to airlines for flights included into the sponsorship program will additionally help to settle one of the regional traffic development issues – to reduce cost, and it will help to achieve main goals – transport accessibility of the Russian Federation regions and their population aviation mobility», - said Vladimir Spiridonov, Aerofuels group General Director.